Car Questions
RepairPal is your advocate for car care advice and guidance
/
/
/
/

Hello, do i need to repla...
Hello,
Do I need to replace the compressor or the alternator? Please help!
(2007 Dodge Caliber)
My car has been making this loud rattling noise for about 2 months now. I took it in to get an oil change and I went ahead and asked the mechanic to check the noise issue. He said that it is the compressor failing and that it'd be very expensive to replace. I decided to ask around and do some research myself before giving the go-ahead to fix the compressor. Other sources told me that the problem is witht he alternator. Now I don't know which way to go. Does anyone have any advice? Can anyone tell me if I myself can check the alternator belt to see if that's the problem? I appreciate your help! :)
Displaying
1
answers &
1
comments
The first thing to do is to isolate whether it is the alternator or air conditioning compressor that is actually making the noise. Listening to the compressor and alternator with a mechanic's stethoscope may isolate the noise, removing the belt and spinning each component separately would be best. Autozone have some popular workshop manuals for free on line once you register (for free) on their website http://bit.ly/autozone_repair_info. There is a company that independent auto repair shops get their information from, this same information is available inexpensively for people that work on their own cars.. The information is year make and model specific, covering repair procedures, torque specifications, fluid capacities and specifications, service bulletins, component locations, wiring diagrams ect.... Alldata is very easy to navigate http://bit.ly/AllData_Repair_Manuals_Online
Alldata would be best. Replacing the belt is easiest, replacing the alternator may be doable but will not be able to replace the a/c compressor yourself.
RepairPal estimates are guaranteed at over 2,000 quality certified locations nationwide.
Learn more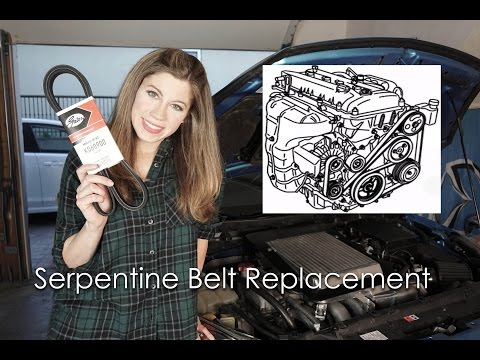 Whether your serpentine belt is squealing or you are performing preventative maintenance, follow our step-by-step guide to replace a worn belt on most vehicles.
View answers to similar questions from RepairPal's community of auto experts and enthusiasts.
Sometimes it shifts fine but mostly bad shifts from 1st to 2nd (hard shifts) I have checked everything lock up sylini...
It happens when check engine light is on.But check engine light gos off for a bit and then it works until it comes ba...
Didn't find what you were looking for?